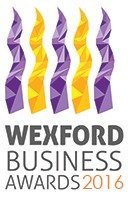 2016 – so far it's been a year of celebrating achievements and a year of voting. Ireland looked back to Easter 1916 and looked to the future with a general election. 2Cubed has also started the year with success, launching some fantastic new websites for companies from all corners of Ireland, and being voted on to the shortlist for two categories at the 2016 Wexford Business Awards.
This year, 2Cubed is delighted to have been nominated in the Wexford eCommerce/ Social Media Award sponsored by ESET Ireland and the Wexford SME of the Year Award sponsored by Waters Technologies. We are delighted that our contributions to web design in Wexford and web and app development have been recognised by our peers and are eagerly anticipating the awards ceremony on May 27 at White's Hotel, Wexford.
"Wexford and the South East is home to some of the most innovative and entrepreneurial business organisations in the country" said Pat Kenny, this year's Guest MC.  "The Business Awards is an opportunity for all of us to celebrate this and to recognise the massive contribution that these businesses make to both the local and national economy. "
Feel free to share our post!